Client Industries
Products Materals
Client Application
CNC Hard Chrome Plated Steel Bars Components, Materials - CNC Turning Service
CNC turned electronic parts for chrome-plated bars and tubes are treated with chromium plating, usually hard chrome plating. About hard chrome plating rod, its hardness is a relatively important factor, and most of them will use steel as material. The hard chrome surface of the bar's hardness and wear resistance are much better than those of ordinary steel bars, it also confers corrosion and wear resistance, reduces friction, improves durability and through abrasion tolerance ensures good oil holding as well.
What's more, CNC hard chrome plated steel bars and tubes are primarily used as piston rods, a critical component in hydraulic cylinders. The basic function of transforming hydraulic power to a linear motion whilst preventing ingress of abrasive media into the hydraulic system will stipulate a set of demands on the rod.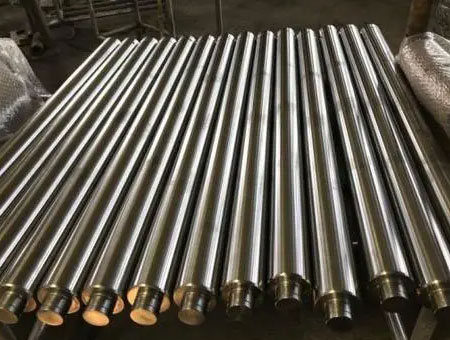 Hard Chrome Plated Steel Bars Exporter, Best Manufacturer Of CNC Machining Parts Hard Chrome Plating Rods
Dajin Precision is one of the China best suppliers of CNC machined hard chrome plated steel bars/tubes and linear shafts for electronic components. We've been specializing in the design, manufacture and sale of cheap hard chrome plated steel bars/rods and relative appliances with & without Induction Hardened. We can supply these toughened CNC steel hard chrome-plated rod of any grade of material.
Our range of CNC turning parts products is made up from superior quality of raw material and is being offered at market leading prices. These bars are extensively recognized for optimum performance and robust construction. Our products are also widely appreciated for their elegant finish, resistance from corrosion and durability. In addition, we have a team of efficient quality inspectors who make sure our CNC machining hard chrome plated steel bars products for electronic industry are manufactured as per the excellent standards.
Features:
High rust‐prevention
High accuracy
High equality of plating
Low friction
High surface hardness
Excellent wear resistance
Extended life of parts
Good corrosion resistance
Applications:
Textile Components
Hydraulic Cylinder Shaft
Automobile & Electronic Components
Fitness Equipment
Pump Shafts
Keep browsing our website to learn more about our CNC hard chrome plated steel bar manufacturing capabilities or contact us by phone or email to discuss your requirements.