Client Industries
Products Materals
Client Application
Quality CNC Turning Parts & Components - Custom Precision CNC Turned Parts
Dajin Precision Hardware Co., Ltd is a professional China CNC Turning Parts manufacturer and exporter with over 10 years CNC machining experience on a variety of custom CNC Turned Components, CNC Machined Parts, Precision CNC Machining Parts, CNC Small Parts, Machined Metal Parts, Plastic Turned Parts, CNC Lathe Parts, CNC Turning Services and more to meet different requirements of worldwide customers. We mainly serve customers from the United States, Europe, the Middle East, and more countries & regions.
What are CNC Turning/Turned Parts?
CNC Turning Parts are manufactured by a cutting tool of CNC machines handling a set of machining operations while the workpiece rotates.
The common CNC Turned Parts include various round shape products like shafts, probes, pins, connectors, fasteners, tube, pipe joint, nozzle, bushes, and more. Materials can be processed including alloy, steel, aluminum, brass, copper, stainless steel, plastic and more with CNC Turning Lathe Services, which applicable in the majority of industries. There are diverse benefits the precision CNC turning products have: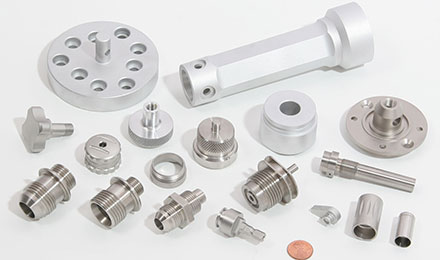 Majority of industries take advantage of CNC turning parts and services in their equipment.
Multiple precision turned parts with different materials can be handled at the same time.
Considerably less cost compared to rapid prototyping like 3D printing.
It can be produced to high accuracy and exact tight tolerance levels.
More superior looking after special surface treatment.
Consistent products can be mass-manufactured without compromising manufacturing quality.
The chance of faults and errors for CNC turned components is very mini base on the computer-controlled CNC machining process.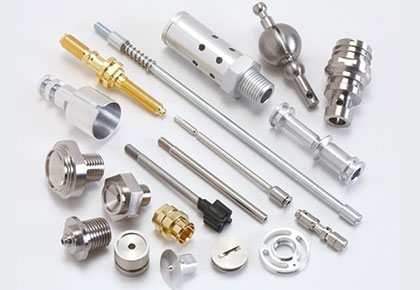 Dajin CNC Turning Capabilities
We are capable to offer CNC turning services include industry-leading straightness, surface finish to Ra1.6 and outside diameters within 0.0001" (2.5 µm) tolerance. Our thru-feed grinding is also ideal for cylindrical parts with a large outside diameter (OD), offering critical optimizations such as burr-free flats and multiple diameters.
Our principal CNC Machining Services and processes: Turning, Turning-milling, Hard turning, Hobbing, Deep hole drilling, Slotting, External and internal gear cutting, Threaded rods
Complex turned parts:
Complex, precise CNC turned parts up to ⌀ 65 mm.
Inserts measuring up to ⌀ 250 mm, inserted automatically by a robot or by hand.
Long turned parts produced by state-of-the-art lathes, e.g. shafts and axles.
Short turned parts starting at ⌀ 1 mm, using a variety of materials for small- and large-scale production.
Dajin CNC Turning Parts Applications & What Can We Offer
| | | | | | | |
| --- | --- | --- | --- | --- | --- | --- |
| Medical and Dental Instruments | Automobile industry | Mechanical parts category | Aerospace Industry | Electronics Category | Military&Defence Industry | Hunting&Fishing Industry |
| Medical Tooling & Medical Mold | Low pass filter shaft | Fastener | Fastener | Metal Housing used for earphone | Airframe Parts | Blade ferrule |
| Packaging | Hydraulic valve | Motor shaft | Connector joint | Aluminum pipe/tube used for tattoo and e-cigarette | Consumables | Insert |
| Processing machinery replacement and spare parts | Valve housing | Empty metal cans | Screw | Nozzle used for Shisha | Expendables | Insert Footer |
| R&D fixtures | Sensor Housing | Conductive pins | Shaft | Contact pins | Avionics / Instruments | Broadheads |
| Testing | Pressure sensor housing | Connector joint | Eccentric hollow shaft | Conductive Pins | Engine Components | |
| Analysis | Temperature sensor housing | Shaft sleeve | Pin | Pivot pintle | Rotables | |
| | Pipe Joint | Pneumatic fitting | | Probes | | |
| | Throttle control shaft | Hydraulic fitting | | Bushes | | |
| | Sensor metal shell | Hose joint pipe coupler | | Test tooling | | |
| | | Screws(Rivet,Bolt,Nut) | | Linear shaft | | |
| | | Eccentric(hollow) shaft | | Hard Chrome Plated Steel Bar | | |
Materials Capabilities
Dajin Precision work with a variety of metals and plastics for complex CNC turning parts.
Stainless steel: SS201,SS301,SS303,SS304,SS316F,SS316,420,etc.
Steel: Carbon steel, alloy steel, mild steel,4140,4340,Q235,Q345B,20#,45#,etc.
Aluminium: AL6061, AL6063, AL7075, AL5052, AL6082, etc.
Brass: HPb63, HPb62, HPb61, Hpb59-1, H59, H62, H68, H80, H90, etc.
Plastic: PVC, POM, NYLON, etc.
Alloy: Zinc alloy, Aluminum alloy, copper alloy, Titanium alloy, etc.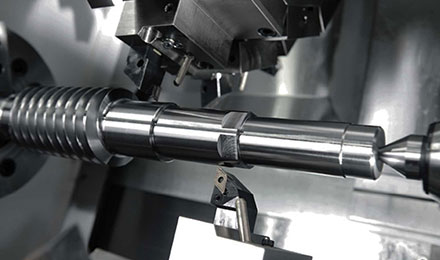 Specifications
Maximum length: 150 mm or customized
Diameters: 1-25mm (within 0.0001" (2.5 µm) tolerance)
Tight tolerance: high-precision tolerances ranging from +/-0.001"–0.005" (specific tolerances can be discussed)
Why Choose Dajin CNC Turning Machining Parts
A variety of surface treatments including heat treatment, anodize, polishing, plating, passivating, sandblasting, etc. for different materials.
Strict quality inspections and control with testing instruments including Projection machine, Digital height gauge, Micrometer calipers, Caliper, Coordinate measuring machine to ensure high-quality products.
Ability to source everything from simple shafts to complex CNC parts cost-effectively due to a range of equipment and countless grinding CNC turning lathe services in one place.
All manufacturing processes in compliance with the precision machining of the highest standard.
Skilled and trained production and service team to supply the best user experience.
One-stop shopping to save time and money and get your required products quickly.
Varying grades of plastic, aluminum, stainless steel, brass, bronze and copper for selection.
Instant responses. Any problems with our OEM CNC lathe services and turning machining parts, please feel free to contact us through the available solutions, our team will give the feedback instantly.
What is CNC Turning?
CNC (Computer Numerical Control) Turning is one type of manufacturing method or CNC Machining Services using turning center or lathe, does CNC turning process with the workpiece held in a chuck on a rotating spindle on turning machines, at the same time, the machine tool moves to the rotating workpiece and removes the extra materials to create the CNC Turning Parts of the required shapes.
CNC turning is a common machining technique that provides one of the fastest solutions for large amounts of rounded material production including CNC turned parts and components and the only machining process for concentric shapes or threaded items. It's is ideal for manufacturing cylindrical machined components that mainly completed with round rod material, but the technique also allows a wide range of CNC products with different shapes, sizes, and material types.