Client Industries
Products Materals
Client Application
Stepper Motor Coupler Connector & Motor Coupling
Stepper motor is widely used in computer, security, mechanical, industrial automation and automobile industry, and the coupler is a common component in the motor system.
What is a stepper motor coupler? Stepper Motor Coupler, also called stepper motor coupling, is a mechanical part made with CNC turning services and mainly used to connect two rotating shafts in mechanical transmission, so as to transfer torque or rotate angle; it can also be used for equipment protection of safety devices, in the moving process, the shaft can't be separated from the shaft, and can only be separated when the equipment stops running.
The motor will be damaged without the stepper motor shaft coupler, because the tension of the chain will give a great bending moment to the motor shaft, which causes the bearing of the motor shaft work abnormally, generate noise, rapid wear and accelerated failure, even the motor can't be started if the force is large.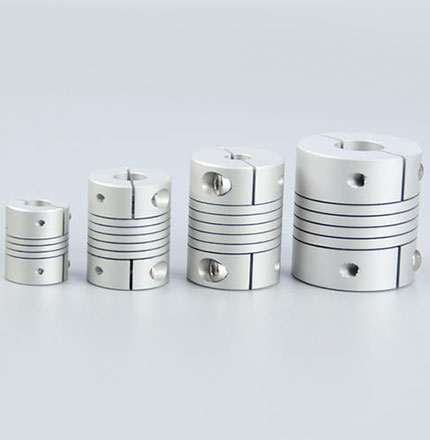 Dajin CNC Machine Motor Coupler - CNC Turning Stepper Motor Coupler/Coupling for Mechanical Industry
Coming to our precision CNC Motor Coupling (Machine Motor Coupler, Stepper Motor Coupler), the mechanical part used for a connecting or protecting accessory in stepping motor, CNC machines and more, Dajin Precision provides high-quality CNC turning parts machining services for custom or specific motor coupler.
Equipped with the professional technical team, complete manufacturing and inspection facilities, our safe and reliable CNC motor coupler connector with long service life and favorable prices has won the absolute trust and good reviews from worldwide customers.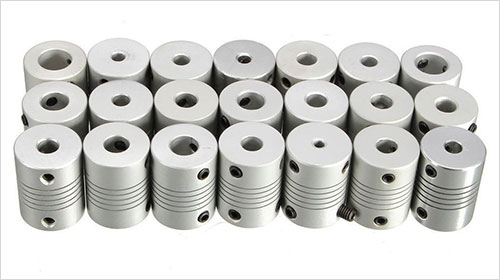 Materials:

Aluminum, stainless steel, alloy, brass, steel, etc.

Tolerance standard:

+/-0.001"–0.005", depending on customers' demands.
Applications
Dajin CNC Machined Motor Coupler is usually applied in stepper motor, servo motor, encoder screw driving machine platform, etc. With the expansion of stepping motor applications, the motor coupling is more and more used in mechanical, electronic, textile and other industries.
Machines or devices with positioning requirements, such as wire cutting center, hair planting machine, packaging machine.
Applications requiring stable operation, low noise, fast response, long service life and high output torque, such as ATM, inkjet, lettering machine, photo realistic machine, spraying equipment, medical instruments and equipment, computer peripherals and mass storage equipment, precision instruments, industrial control system, office automation, robots and other fields.
Textile machinery and equipment, etc.
Features
Simple structure, easy to install and attach or disconnect the shafts.
Buffering, damping and improving the dynamic performance of shafting.
Prevent the motor from damage.
Good vibration absorbability, smoothness, and flexibility.
Accurate dimensions and precise tolerance.
Compensate for radial, angular and axial misalignment.