Client Industries
Products Materals
Client Application
Pneumatic Fittings, Adaptors, Connectors and Couplings (Air Fittings)
Pneumatic Fitting is also referred to as Pneumatic Adaptors & Couplings or Air Fittings & Connectors, which is one type of Pneumatic accessories be used to connect pneumatic tube, pipe or hose and each connection requires specific fittings in pneumatic system. Pneumatic fitting system is a specialized technology that uses compressed air as a medium to drive and control machinery.
To perform different functions, there are vast number of types of Pneumatic Pipe Fittings, containing Adapter, Coupling, Union, Cap, Plug, Elbow, Tee, Cross, Reducer, Nipple, Valve and more. With the advantages of energy saving, pollution-free, high efficiency, low cost, safety and reliability, and simple structure, CNC Machining Pneumatic Fittings is widely used in various machinery and production lines. Pneumatic connectors, adaptors and fittings, as important pneumatic components, must have reliable performance, because low-quality pneumatic fittings can cause huge losses to the mechanical industry.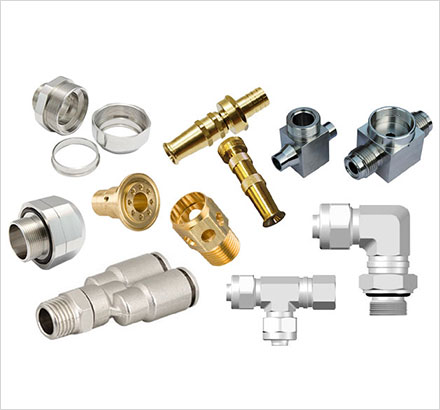 High Quality & Cost Effective CNC Machined Pneumatic Fittings (Air Fittings)
Dajin Precision - Specialist in CNC Machining Parts manufacturing, extensively offers a wide assortment of pneumatic fittings, air couplings, connectors and adapters. With the connection type and function performs, huge selection of all types of pneumatic fittings (air fittings) are available here, from push-on and push-in Fittings to connect couplings to pneumatic tubing fittings to flow control valves and accessories.
High quality CNC turned pneumatic air fittings of all kinds are offered to worldwide customers at the best prices in whole market! Our precision Pneumatic Fittings produced to your drawing with advanced machining technology including CNC lathes, CNC milling, CNC grinding, can be compatible with the rest of your Pneumatic system perfectly.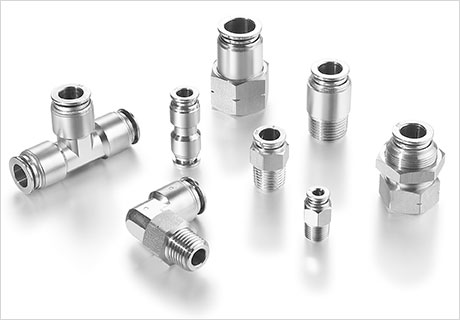 Basic Specifications of our CNC Machining Services for Pneumatic Fittings
CNC Machining & Turning Pneumatic Fittings & Air Fittings in an array variety of sizes, body styles, materials (plain brass, nickel plated brass, plastic, stainless steel and more), thread types depending on customer specifications and requirements can be manufactured here to fit in for a number of mechanical industrial applications and processes!
Product Name

Pneumatic Fittings (Air Fittings)

OEM/ODM Service

Custom Design Accepted
Design As Customer's Requirements Offered
Free Sample Before Manufacturing Provided
Machining Process Selection

CNC machining / lathing / milling / drilling / turning /grinding /

Certification

ISO9001:2015
ROHS, SGS and Environment Protection
Air Pressure or P.S.I. Requirement
Tolerance Standard

High-precision tolerances ranging from +/-0.001"-0.005", depending on customer specs

Applied Software

PRO/E,AUTO CAD,SOLID WORKS,IGS,UG,CAD/CAM/CAE
Thread type of Pneumatic Fitting

Pipe
British pipe
Metric
SAE Straight Thread

Application of Pneumatic Fittings

Pneumatic Control
Factory air Automation
Process control and Instrumentation plus Fluid Transfer
Pharmaceutical
Connection Types of Pneumatic Fittings (Air Fittings)

Compression Pneumatic Fittings (Bite-type Fittings, Mechanical Grip Fittings, Flare Fittings)
Pneumatic Hose Fittings
Pneumatic Push Fittings (Push-In Fittings, Push-On Fittings)
Crimp Fittings
End Fittings (Clamp Ends, Plain Ends)
Quick Connect Pneumatic Fittings (One-Touch Instant Fittings)
Threaded Fittings
Pneumatic Tube Fittings
Screw-In Fittings
Push-To-Lock Fittings

Function Types of Pneumatic Fittings (Air Fittings)

Extend or terminate pipe lengths: Adapter, Coupling, Union, Cap, Plug
Add or change connect direction: Elbow, Tee (Y-Shape), Cross (X-shape)
Provide special connections or functions: Nipple, Valve
Connect pipes of smaller size: Reducer (Reducing Sleeve, Reducing Nipples)
Main Materials

Stainless steel: SS201, SS301, SS303, SS304, SS316F, SS316, 420, etc.
Steel: Carbon steel, alloy steel, mild steel, 4140, 4340, Q235, Q345B, 20#, 45#, etc.
Aluminum: AL6061, AL6063, AL7075, AL5052, AL6082, etc.
Brass: HPb63, HPb62, HPb61, Hpb59-1, H59, H62, H68, H80, H90, etc.
Copper: C11000, C12000, C36000, etc.
Thermoplastic : PVC, POM, NYLON, etc.
Alloy: Zinc alloy, Aluminum alloy, etc.

Surface treatment

Stainless Steel: Polishing, Passivating, Sandblasting, Laser Engraving
Steel: Zinc plating, Nickel plating, Chrome plating, Black oxide, Heat treatment, Carburized, Powder coating
Aluminum: Clear anodized, Color anodized, Sandblast anodized, Brushing, Polishing, Chroming
Brass: Nickel plating, Chrome plating, Polishing
Plastic: Painting, Chrome plating, Polishing, Sandblasting, Laser engraving
Packing

Eco-friendly PP bag/PE foam/Carton boxes or Wooden boxes
As customer's specific requirements

Shipping

Less than 50kg, you could choose express, such as DHL, UPS, FedEx, TNT and EMS.
From 50kg to 200kg, you could choose to send by air. (fast and safe, but expensive)
More than 200kg, you may consider to send by sea. (cheapest, but long transit time)
We can also deliver as client's requirement
Advantages of Our CNC Machining Services for Air Fittings
Wide Range - Vast number of types of pneumatic fittings in materials, shapes, functions, sizes
Top Grade - High quality materials, high-precision tolerances, professional team
Excellent Performance - Great pressure-holding capacity, corrosion resistance, tube compatibility
Best Prices - Competitive pneumatic fitting prices, cost-effective customized order
OEM/ODM - Professional CNC turning service for complex customized pneumatic fittings
Awesome Services - One-stop service from quotation, design, production, quality inspection, packaging, delivery, to after-sales