Client Industries
Products Materals
Client Application
CNC Hydraulic Valve And Fittings, Auto Parts CNC Machining Hydraulic Valve
CNC machined hydraulic valve and fittings is an automatic component installed on hydraulic valve block by pressure oil operation. It is controlled by pressure oil of pressure valve. It is usually used in combination with solenoid pressure valve. It can be used for remote control of oil, gas and water pipeline system in hydropower station. Hydraulic valve and fitting allows the tool to contact, bending the shaft lightly (about 0.5mm displacement of bending). Possible to remove only the burrs and keep the shape of the edge. Utilization of surface and heat treatments/coating/anodizing, achieved better processing efficiency.
CNC Hydraulic Valve Manufacturer, Hydraulic Valve And Fitting CNC Machining Service
Shenzhen Dajin Precision Hardware Co., Ltd is a supplier of precision CNC machined components and assemblies to the Hydraulic, Automotive Industries. We can manufacture hydraulic parts for machinery as well as equipment, specializing in high precision CNC hydraulic valves and fittings and related componentry including valve housing, Pipe Joint, throttle control shaft, sensor metal shell, low pass filter shaft, pins, shafts and sensor housings.
We use the latest CNC turning technology with a wide range of capabilities to meet your demands. We're able to produce CNC turning service for hydraulic parts, including couplings, adaptors, fittings and flanges. We can manufacture a range of components used in hydraulic cylinders, including valves and flow divider manifolds. Our CNC hydraulic valve manufacturing capabilities allow us provide the ideal solution for your needs, whether you need prototype or production quantities. In addition, we can assist with CNC turning, CNC milling and 5-Axis machining. You can view our full list of capabilities on the below.
Dajin CNC Turning Parts Hydraulic Valve Manufacturing Capability:
Accuracy is ±0.001mm and surface roughness is 0.8S~1.6S.
Japanese series CNC center less grinding and core grinding for perfect coordination with our customers.
Accuracy is ±0.01mm and surface roughness is 1.6S~3.2S.
Japanese series CNC lathe/milling complex processing, allowing us to complete the piece work required by our customers in one processing with accurate size.
Accuracy is ±0.03mm and surface roughness is 1.6S~3.2S.
All types of accuracy machine, drilling and threading, milled processing, angle cutting, and production that conform to customer's requirement.
Professional TIG welding technique and manufacturing that conform to customer's requirements.
Injection forming, manufacturing products for customer with professional technique.
Different types of precision measuring instruments and commissioned designing of testing tools and equipment.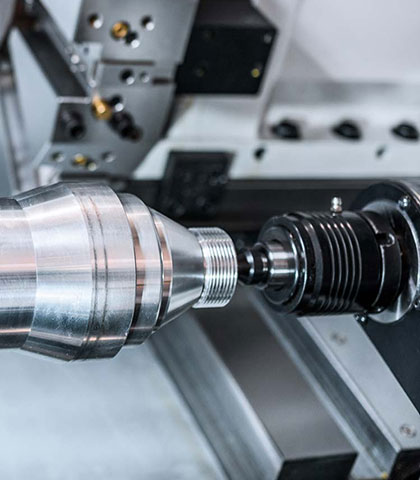 CNC Machined Hydraulic Valve And Fittings Features:
Critical parts are hardened for durability
Sturdy construction
High strength
Seamless finish
Rust resistance