Client Industries
Products Materals
Client Application
High Precision CNC Machine Screws, Aerospace Screws
Screws is one of the most common equipment accessories for almost every industry and widely used as the aircraft threaded fastening devices. Aerospace screws, nuts, bolts, cables, and other small parts work with the aviation hardware to ensure the normal operation of the whole airplane.
Ordinary aircraft screws can be divided into the following types according to the structure and functions: machine screws, structural screws, drive screws and self-tapping screws.
Different machining screws have different functions, for example, some CNC turning screws have the obvious grip or unthreaded portion, some need to be threaded along their entire length, some used for machine repairing and some are utilized to attach lighter parts, and the stainless steel screws are applicable in most light aircraft to fix exterior trim, panels, spats, hinge pin retaining plates, etc.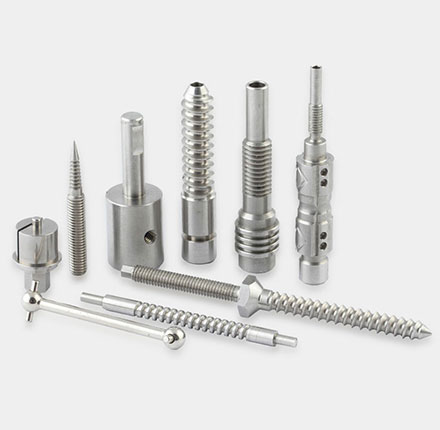 Custom CNC Turning Screws for Aerospace & Aviation Hardware - Aircraft Screws Turning Machining Service
Even a single screw is related to the safety of the whole airplane, the importance of aircraft screws make us take seriously to it, from the source and throughout the entire manufacturing and machining process.
Dajin Precision provides a large selection of affordable quality aviation screws and screw kits that can withstand the stresses of flight, resist corrosion, hold up even under temperature extremes, also recyclable and environmentally friendly.
As an experienced turning parts and machining service OEM, more fasteners, aerospace spare parts, aviation hardware with custom specifications are available here, we have the ability to source everything from simple shafts, screw to a complex CNC part cost-effectively.
Ranges of CNC Machining Aerospace Screws
Thumb Screws, Insert Screws, Ballpoint Screws,Plunger Set Screws,Anodized Screws,Head Screws,Fastener Screws,Metal Screws,Machine Screws,Flat Head Screws,Sheet Metal Screws,Valve Cover Aircraft Screw,Set Aircraft Screw,Socket Aircraft Screw ,Drive Screws,Self-tapping Screws,Structural Screws and so on.
Descriptions of Our CNC Turning Aerospace Screws
Size:

1-25mm diameters, maximum length 150mm and as per customer's requirements

Tolerance:

high-precision tolerances ranging from +/-0.001"–0.005"
Material Capabilities:

Aluminum, Brass, Steel, Stainless steel, Alloy, Plastic and more

Surface Treatment:

Plating/Polishing/Heat treatment/Anodization
Certification:

ISO9001:2015

Package:

Eco-friendly pp bag/PE foam/Carton boxes or Wooden boxes or as customer's specific requirements.
Process:

High precision CNC turning

Applied software:

PRO/E, AUTO CAD, SOLID WORKS, IGS, UG, CAD/CAM/CAE
Application:

Aerospace components
Precision:

Surface finish to Ra1.6 and outside diameters within 0.0001" (2.5 µm) tolerance.

Standard:

Non standard, JIS, DIN, ASTM, BS, SAE
Advantages of Our CNC Turning Aircraft Screws
A range of equipment and centerless grinding CNC Machining services in one place.
Quality tested raw material purchased from the reliable vendors of the industry.
The CNC Turning Screw product is consistent with the drawings and samples provided by customers.
Long functional life, corrosion resistance, and high tensile strength.
ISO9001:2015 Quality Assurance
One-stop shopping and short delivery time.
High precision and accuracy.
Competitive price and guaranteed quality.