Client Industries
Products Materals
Client Application
Custom CNC Turning Eccentric Hollow Shaft for Aerospace Parts & Components
Eccentric shaft refers to the CNC Turning Part whose axis of the outer circle and the outer circle are parallel but not coincident, generally fixed on the rotating shaft of the motor through the eccentric hole. The recess pressure on the eccentric shaft is different, which caused circumferential flow. The CNC machining eccentric hollow shaft is different from the eccentric solid shaft, the diameter of the hollow shaft is more than the solid shaft and require more space. Hollow shafts have a more polar moment of inertia, thus they can transmit more torque compared to solid shafts.
Dajin Precision Hardware Co., Ltd is an ISO 9001:2015 certified manufacturer of CNC turning eccentric hollow shaft for aerospace, mechanical, and more industries from prototype to production. Our CNC turning eccentric hollow shaft with its center offset from that of the axle, made of nodular cast iron or common metal treated with a machined surface finish. You can find various high-quality CNC turning shafts like servo motor shaft, aerospace drive shafts, laser shaft alignment, driven shaft for motor, horizontal shaft for cooled diesel engine, hollow eccentric shaft, precision aluminum shaft, machined brass shaft, linear drive shaft and more.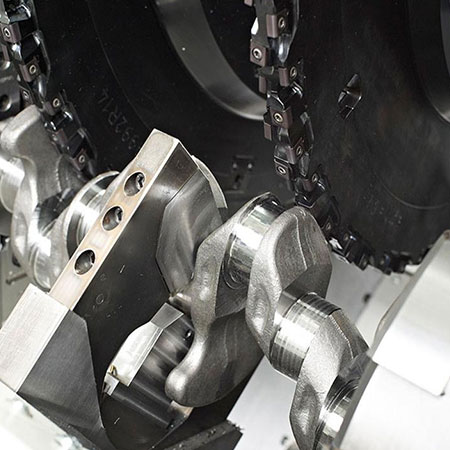 Main Specifications of Our CNC Machined Aluminum Parts Producing
Shenzhen Dajin Precision CNC Maching/Turning Aluminum Parts
Dimension/Size:

1-25mm diameters or as per customer's requirements

Tolerance:

high-precision tolerances ranging from +/-0.001"–0.005"
Material Capabilities:

Aluminum, Brass, Steel, Stainless steel, Alloy, Plastic and more

Surface Treatment:

Heat treatment/Centerless grinding/Winding plating
Certification:

ISO9001:2015

Package:

Packed in a plastic bag with carton for outer packing or as per customer's request
Process:

High precision CNC turning

Applied software:

PRO/E, AUTO CAD, SOLID WORKS, IGS, UG, CAD/CAM/CAE
Application:

Aerospace spare parts, Household appliance components, Automatic transmission and more.
Precision:

Surface finish to Ra1.6 and outside diameters within 0.0001" (2.5 µm) tolerance.

Inspection:

100% Inspected Before Delivery
Standard:

Non standard, JIS, DIN, ASTM, BS, SAE

Testing instruments:

Projection machine, Digital height gauge, Micrometer calipers, Caliper, Coordinate measuring machine
Advantages of Our CNC Turning Eccentric Hollow Shaft
Complete CNC turning eccentric shaft and shafts machining service.
Multiple types and grades of materials for selection.
Widely used in various applications and industries.
100% inspection before shipment and on-time delivery.
High precision and adjustable tolerances.
One-stop shopping from designs to shipping, OEM/ODM supported as well.
With extensive experience in CNC Lathe Turning Machining and modern inspection equipment, we can help you to reduce costs.
Focusing on providing high-quality products with a favorable price according to customer's demand and satisfaction.
If you want customization service for the precision shaft machining and other CNC turned components, please send us the detailed requirements like materials, sizes, shapes, etc information, and a CAD drawing would be better.