Client Industries
Products Materals
Client Application
Archery Arrow Inserts, Arrow Footer, Archery Adaptor, Insert Footer
Archery is an effective exercising way to enhance the physical fitness of human body, improve attention and promote the development of sports organs. During the outdoor hunting and fishing activities, the lethality and penetration are the most critical aspect of arrow archery, to maximize the penetration, we need arrow integrity. The point on arrows connect with the shaft is the weakest part, so it needs to be protected by archery adapters, inserts and insert footers.
Archery Arrow Insert Footer and arrow inserts are hunting and fishing CNC turning parts to maintain the integrity, arrow insert is a small sleeve installed at the front of the arrow, the insert get glued into the end of the arrow shaft provides a threaded hole in which to screw in the arrow's tip. The footer would cover and reinforce the shaft/insert overlap and the whole arrow performance, reduce bending and breakage of the joint.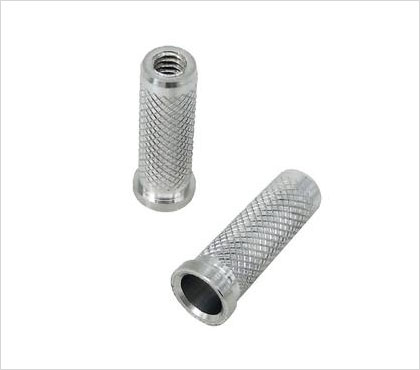 Dajin Precision Hunting and Fishing Arrow Inserts - CNC Turning Services for Arrow Archery Insert Footer
Dajin Precision is professional Chine CNC machining services supplier, developing lathe turning services and manufacturing of brass turning parts, aluminum turning parts, stainless steel turning parts and more for various industries products like Archery Arrow Inserts, Insert footer.
Our processed arrow insert footer fixed the broadhead into the shaft, join the arrowhead to shaft with one piece connection and strengthen the core of the arrow, increases the bending resistance, it also makes the impact energy farther down into the rod.
Description of Our Precision Medical Components & Service
Surface roughness

customized according to drawings

Tolerance

precision turning mold processing +/-0.001" – 0.005"
Surface treatment

oxidation (color can be customized according to customer requirements), zinc plating, galvanizing, nickel plating, chrome plating, copper plating, etc. (All treatments can meet the environmental requirements of countries around the world)
Applications

a range of outdoor hunting and fishing sports gears and accessories

Dimensions

the length and diameter can be customized to fit for multiple arrows of different thickness
Advantages of Our CNC Turning Parts Arrow Inserts
Excellent accuracy
Lower bows weight
Environmental friendly
Arrows fly flatter
Higher arrow rotation speed
Increased penetration