What is CNC Swiss Turning - Guide to Swiss Lathe & Swiss-Type Machining | Dajin Precision
2020/1/29 2:00:12
Swiss-type machining is growing in the precision manufacturing industry, resulting the increasing of CNC Swiss lathe equipment and production of Swiss turning parts. Today, follow us to figure out what is CNC Swiss turning and how does Swiss-type machines work.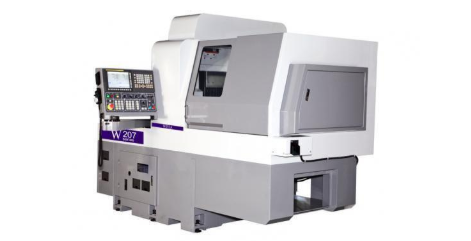 What Is CNC Swiss Turning?
CNC Swiss turning refers to the process for mass production of high precision cylindrical parts with Swiss lathe, the turned parts usually have very small features or micro features. Swiss lathes are similar to general CNC lathes or CNC turning center, but only process in a small range, while run faster and obtain higher precision than traditional CNC lathes.
The typical materials that can be processed by CNC Swiss turning include stainless steel, titanium alloy, brass, aluminum alloy, platinum and iridium alloy.
What Is A Swiss Lathe and How Does It Work?
Swiss lathe, also known as Swiss screw machine, Swiss automatic lathe, is a turning center that developed from Swiss watchmaking industry in 19th century for mass production of screws. Now, the Swiss-type lathes can serve for complex, precision CNC machining parts with excellent accuracy and flexibility.
The main difference between the CNC Swiss-type turning center and conventional CNC lathes is the CNC Swiss turning part is allowed to move in Z-axis and the cutting tool is stationary.
The Swiss-type lathe feeds the stock held by the holding mechanism through a guide bushing and the tool always cut the material near the bushing, or the point of support, which makes it suitable for long and slender turning parts. The stock material is moving through the guide bushing and cut within the machine, only the part to be machined is exposed, which allows the material to be tightly held, virtually eliminating deflection and increasing accuracy.
The Advantages of CNC Swiss Lathe or Swiss Style Lathe
- It uses the guide bushing that fitted closely to surround the bar-stock material for providing an additional support during the turning process.
- It generally produces a better tolerance for the CNC turned parts than conventional CNC lathes.
- It offers significant rigidity to the stock and the machine well-adapted to keep a tight tolerance.
- It can turn or process the components with small diameters or larger length-to-diameter ratio.
Which CNC Swiss-style machine to choose? You should consider the options based on your production needs.